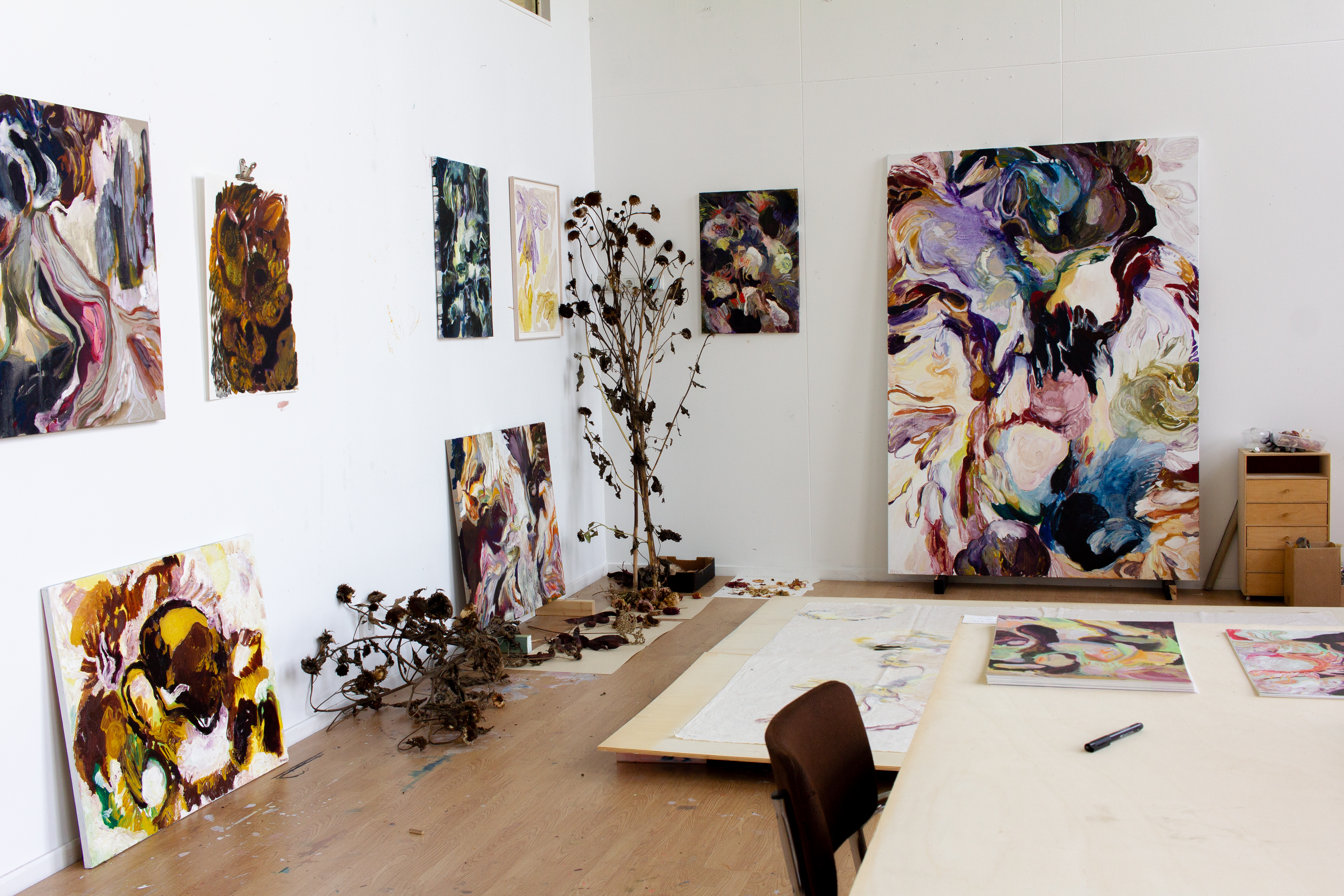 Pleun Moons (1993) feels a strong connection to nature and its cycles. Rather than being inspired by or reflecting on nature, the search for a creating process that justifies the earth's wildness, beauty, fluidity and mystique results in a collaboration with Mother Earth. The garden and the act of gardening are a manifestation of that collaboration, where the seasons, the moon and Moons' actions and choices lead to a continuously transforming process. The garden has a history that is closely connected to the female identity; in beauty, fertility, the sensuality of flowers, or a woman's garden as her magical and medicinal inventory. All of these aspects of the garden and the female identity are represented in her work. Therefore gardening and painting have become an intrinsic proces of self-identification and reassessing her position in nature.

Alongside the continuous interplay between her studio and her home garden, Moons' created a labyrinth garden by an old monastery Hoogcruts (Noorbeek), following the principles of permaculture. Flowers, herbs and vegetables describe the bending and circling path to the middle. Walking this path is a moment of contemplation, meditation and intention. Moving through the labyrinth is a metaphor for the path of life: every step you take and every bend you follow, will eventually lead you the middle.

The plants that grow in the labyrinth are harvested, prepared and presented at a table. The composition of the food on the linen creates a context for meeting and conversation through which the labyrinth's processes resonate. This becomes tangible in the traces that are left on the linen: an impression of the different people that came together to celebrate the harvest. The linen then becomes a starting point for a painting, becoming a work that encompasses the whole process of growth, harvest, sharing, and painting.